PLAY ON TUESDAY – Back Nine Holes
9 Hole League. Starting tee times are as follows:
April – 9:00 a.m. May – 8:30 a.m. June – 8:00 a.m. July – 8:00 a.m.
Aug – 8:30 a.m. Sep – 9:00 a.m. Oct – 10:00 a.m.
(No Handicap required to play.)
Sign up by Thursday in the ProShop or Call 509-548-7267.
Be at the ProShop 30 minutes prior to tee time.
PLAY 18 HOLES ON WEDNESDAY or SATURDAY:
​
The Leavenworth Ladies Golf Association plays 18 holes on Wednesday mornings or Saturdays from April thru October. On Wednesdays, we tee off at the same starting times shown above for the 9-hole league.
For Wednesday play, please sign up by Monday at noon by contacting Mary Darlington at [email protected] or 509-669-6490. If you are unable to play on Wednesday you may play the prior Saturday to compete in the weekly game. Make your own tee time and contact Mary Darlington prior to play. You must play with one other LLGA member and submit a signed scorecard to participate in the weekly game.
Your $29.00 membership includes tons of fun, weekly play prize money, and lunch at our year-end Play Day. Weekly play prize money is awarded for weekly competition in four handicap divisions. In addition, you are eligible to play in all the Washington State Women's Public Links events. We also contribute to a local scholarship fund for children and grandchildren of Leavenworth Golf Club members and support a local charity. We invite all women to come and try us three times before joining! Leavenworth Golf Course membership is not required. You must have an active GHIN to participate in LLGA events. Please contact the pro shop for information.
Please contact any of the following officers for further information.
President: Patty Frigard 509-886-8653
Vice President: Wendy Close 425-760-7295
Secretary: Deanna Bennett 509-669-1508
Treasurer: Mary Jo Landdeck 206-914-2419
Club Champion – Pat Jefferson (left)
Runner Up – Wendy Close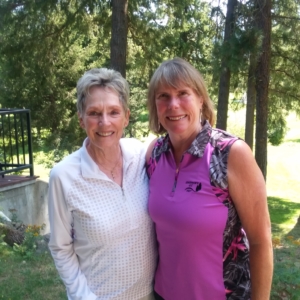 2019 Leavenworth Ladies Club Championship Results
Club Champion: Pat Jefferson
Runner Up: Wendy Close
3rd Place: Laura O'Haver
4th Place: Shirley Hill